OUR VALUE PILLARS
buynomics proprietary machine learning model delivers five core value pillars – in any environment.
RELIABLE FORECASTING
buynomics best-in-class forecast accuracy of over 95% delivers insights you can trust. We have proven it in numerous A/B tests with over 2 million real consumers.

HOLISTIC SOLUTION
buynomics can answer all questions around your portfolio. Our accurate forecasts enable price optimization, product and portfolio optimization, promotion optimization and more!

ACTIONABLE INSIGHT
buynomics delivers clear answers and recommendations. The outcomes are quantified allowing you to make better decisions faster.

EASY USE
buynomics' user-friendly interface means you don't need to be a data scientists to leverage your data for portfolio insights.

IMMEDIATE RESULTS
buynomics answers questions in minutes giving you constant access to market transparency. Don't wait 4-6 weeks for expensive market research but answer questions right when they become relevant.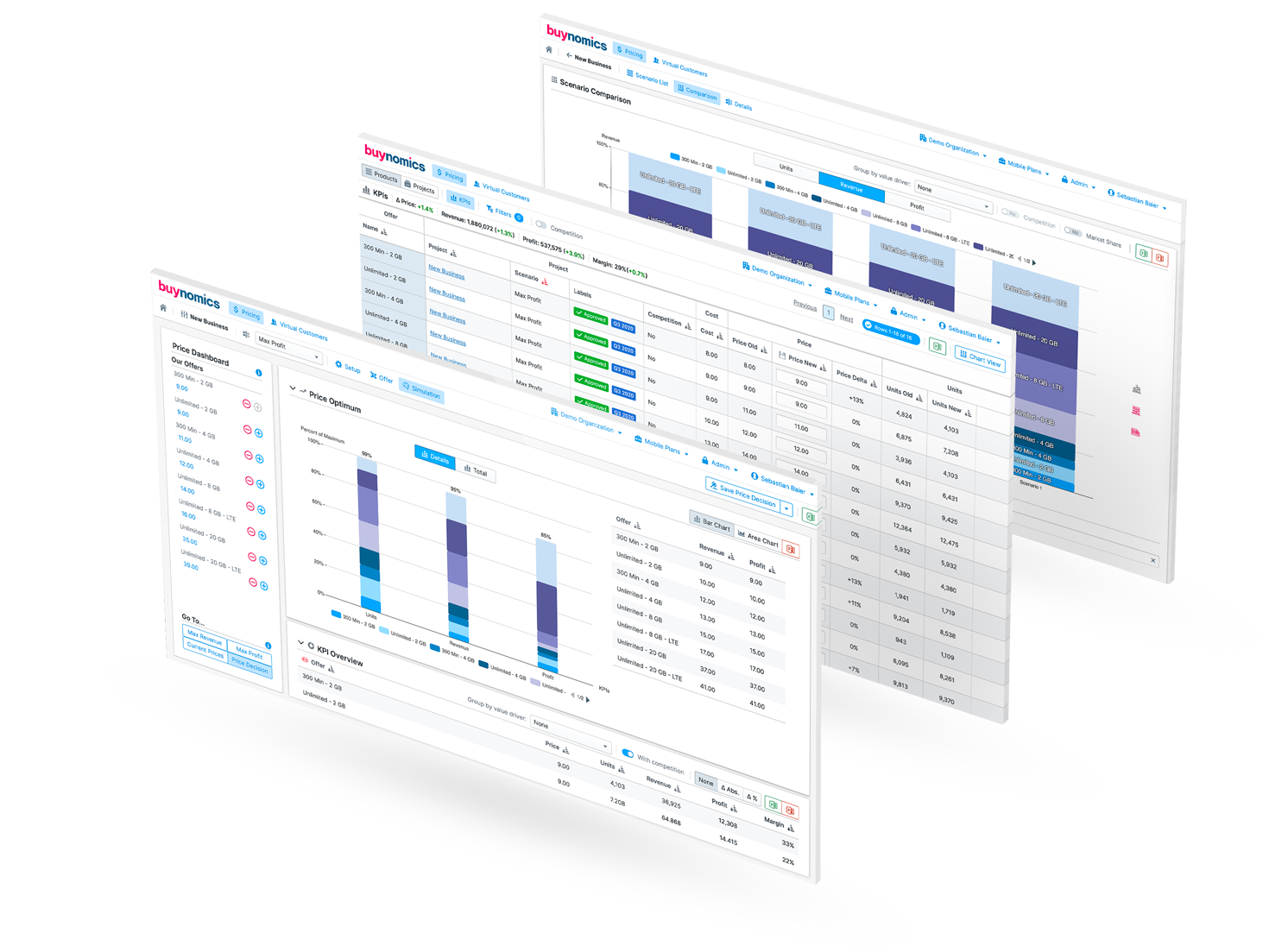 Virtual Customers – How we do it
Virtual Customer technology, a unique model of consumer purchasing behavior is the core of buynomics.
Leverage all your data
Virtual Customers combine the information from sales numbers, market studies, competitive information, expert knowledge and are enriched with our customer insights database. All preferences and behavioural effects are simulated simultaneously, allowing for realistic customer reactions to an offer or price change.
Ultimate customer-centricity
buynomics does not work with a limited number of buyer personas, but with millions of Virtual Customers, each with slightly different preferences – just like real consumers.
Learn from experience
Virtual Customers learn from new insights – e.g., actual sales numbers or customer studies – and continuously improve the prediction quality.
See how it works
ADVANTAGES OF WORKING WITH BUYNOMICS
Why buynomics?
Customer centric
With the Virtual Customer technology at its core, buynomics is the most customer-centric solution in the market.
Scalable
As a SaaS platform, buynomics is highly scalable. Once set up, it can be scaled fast and cost efficient into other markets or business units.
Valid
buynomics precisely predicts the effects of offer or price changes to sales, revenue, and profit. Proven in numerous AB tests.
Flexible
buynomics works regardless of your industry, customer types or pricing goals. In both the B2C and B2B context.
Dynamic
See the impact of pricing decisions in real time. Adjust offer and prices as many times as needed – at no additional costs.
Prescriptive
buynomics' predictions lead to specific recommendations based on business objectives.